International Artist Residency
ศิลปินในพำนักที่ผ่านมา
Sarah Rara


Sarah Rara is a Los Angeles-based artist and poet working with video, sound, performance, and installation. They are a contributing member of the ongoing project lucky dragons (with Luke Fischbeck).






Their work, solo and in collaboration, has been presented at such institutions as the Whitney Museum of American Art (as part of the 2008 Whitney Biennial), the Hammer Museum, the Centre Georges Pompidou, Walker Art Center in Minneapolis, London's Institute for Contemporary Art, PS1 in New York, REDCAT and LACMA in Los Angeles, MOCA Los Angeles, the 54th Venice Biennale, and the Smithsonian's Hirshorn Museum and Sculpture Garden, among others.

Sarah Rara's upcoming residency is supported by the Ford Fund, H.H. Powers Fund and Williams College.



View Sarah Rara's full repertoire of work here.

Francisco López
=
Francisco López is internationally recognized as one of the major figures of the sound art and experimental music scene. For almost forty years he has developed an astonishing sonic universe, absolutely personal and iconoclastic, based on a profound listening of the world. Destroying boundaries between industrial sounds and wilderness sound environments, shifting with passion from the limits of perception to the most dreadful abyss of sonic power, proposing a blind, profound and transcendental listening, freed from the imperatives of knowledge and open to sensory and spiritual expansion.

June 2023
.,
Francisco López performed the world premiere of his new sound composition, '

HIMAVANTA

' at Bangkok 1899 on 23 - 24 June 2023. The performances were the second section of a two-part residency supported by the Embassy of Spain in Bangkok. The performances were created exclusively with original environmental recordings of Thailand's rainforests, which were recorded during the first part of the artist's one month residency last September-October at Bangkok 1899.

During his residency, López utilized his philosophy of exploring the sensorial and ontological reality with a blind, profound and transcendental listening, reinterpreting what he calls an 'anthropoEXcentric' understanding of wilderness sound environments and sonic creatures. López's new performances creatively worked with a myriad of these new original materials and live sound spatialization. As a way to expand reality, his performances gave rise to a new and unique immersive experience of Thailand's rainforests.

Download the press release

here

.



HIMAVANTA
Friday, 23 June 2023: 19:00-20:00 & 20:30-21:30
Saturday, 24 June 2023: 19:00-20:00 & 20:30-21:30
Francisco López conducted his live performances in four sessions taking place over two days at Bangkok 1899.
Sound Masterclass
at Princess Galyani Vadhana Institute of Music
Sunday, 25 June 2023 17:00-20:00
Francisco López conducted a specialized Masterclass to share on his opinions on the evolution of sound art and his creative approach.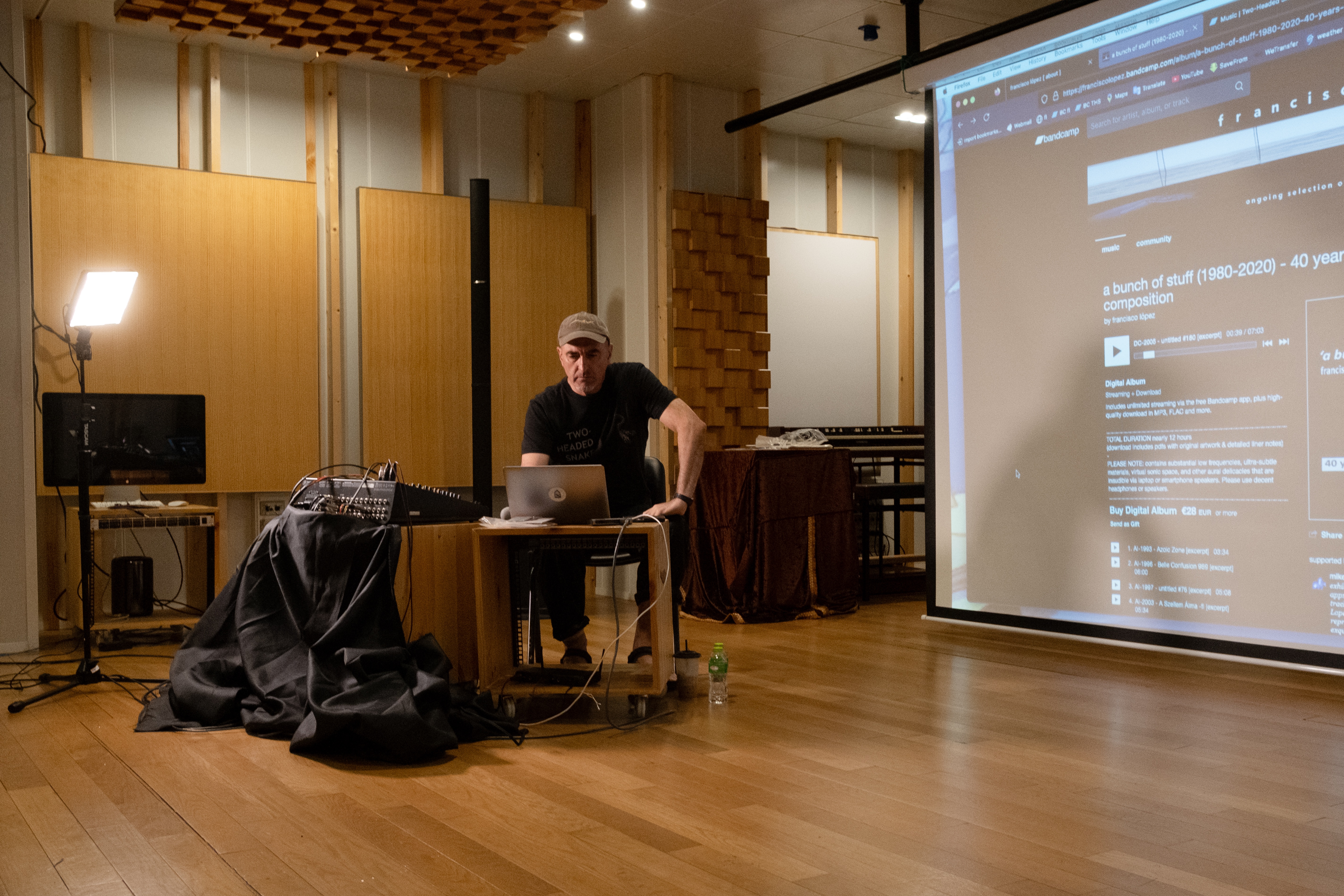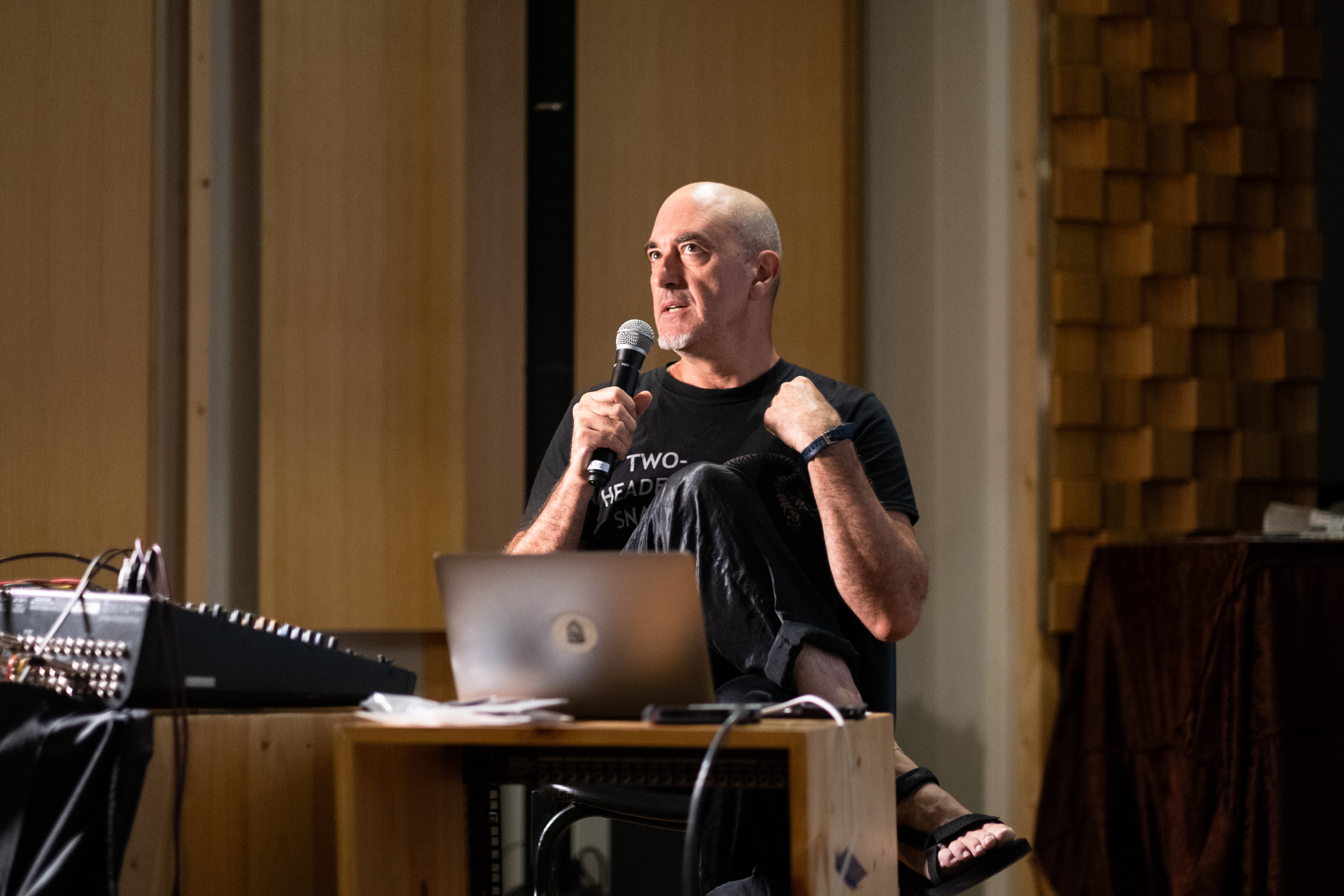 Sound & Food Collaboration Event at Na Cafe
Monday, 26 June 2023 18:00
SOUND, SIGHT & TASTE. Francisco López and Chef Santiago Munoz from Lima, Peru collaborated on a unique experience that incorporated all senses. A seven-course Peruvian dinner prepared by Chef Santiago accompanied by curated sounds of Francisco López.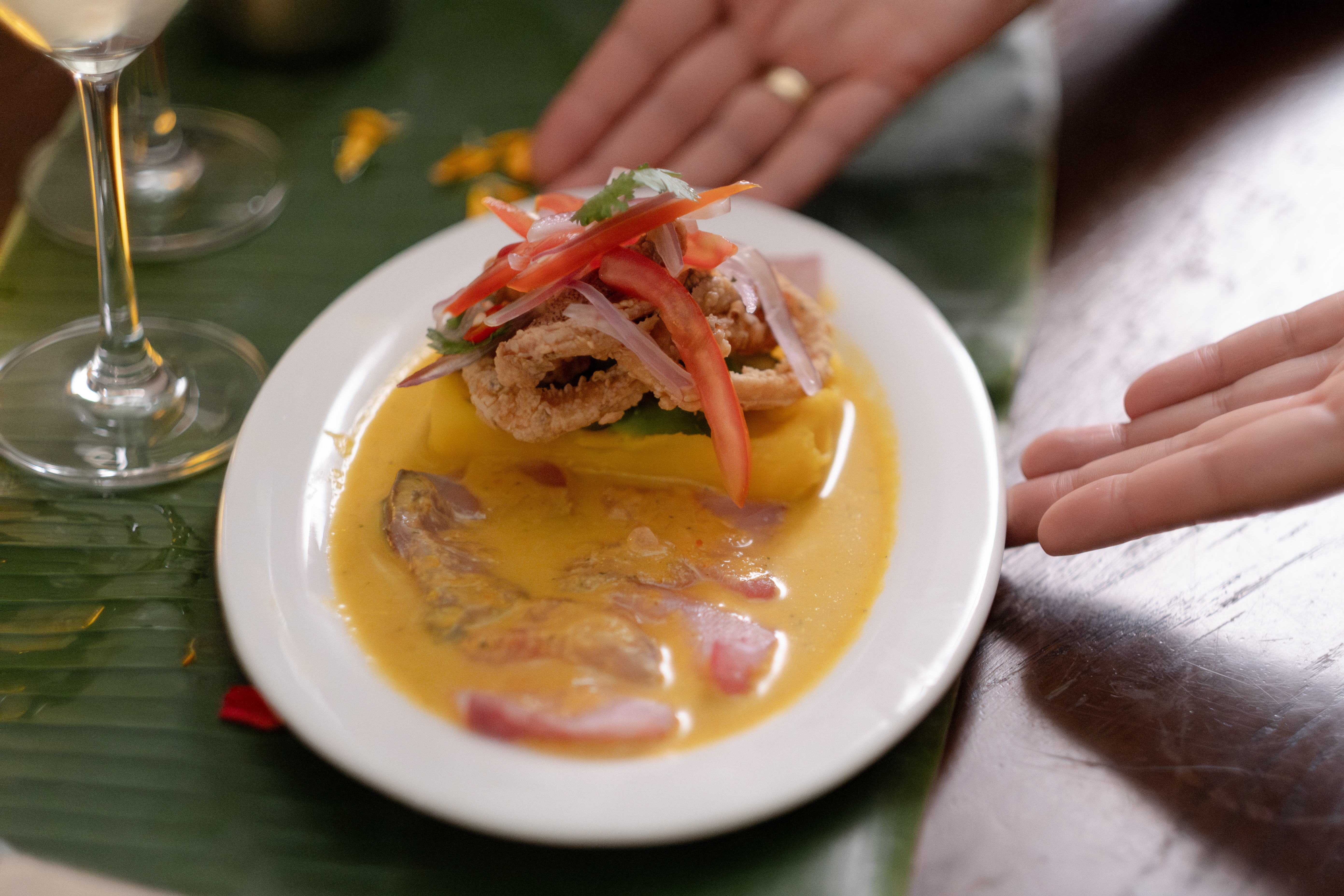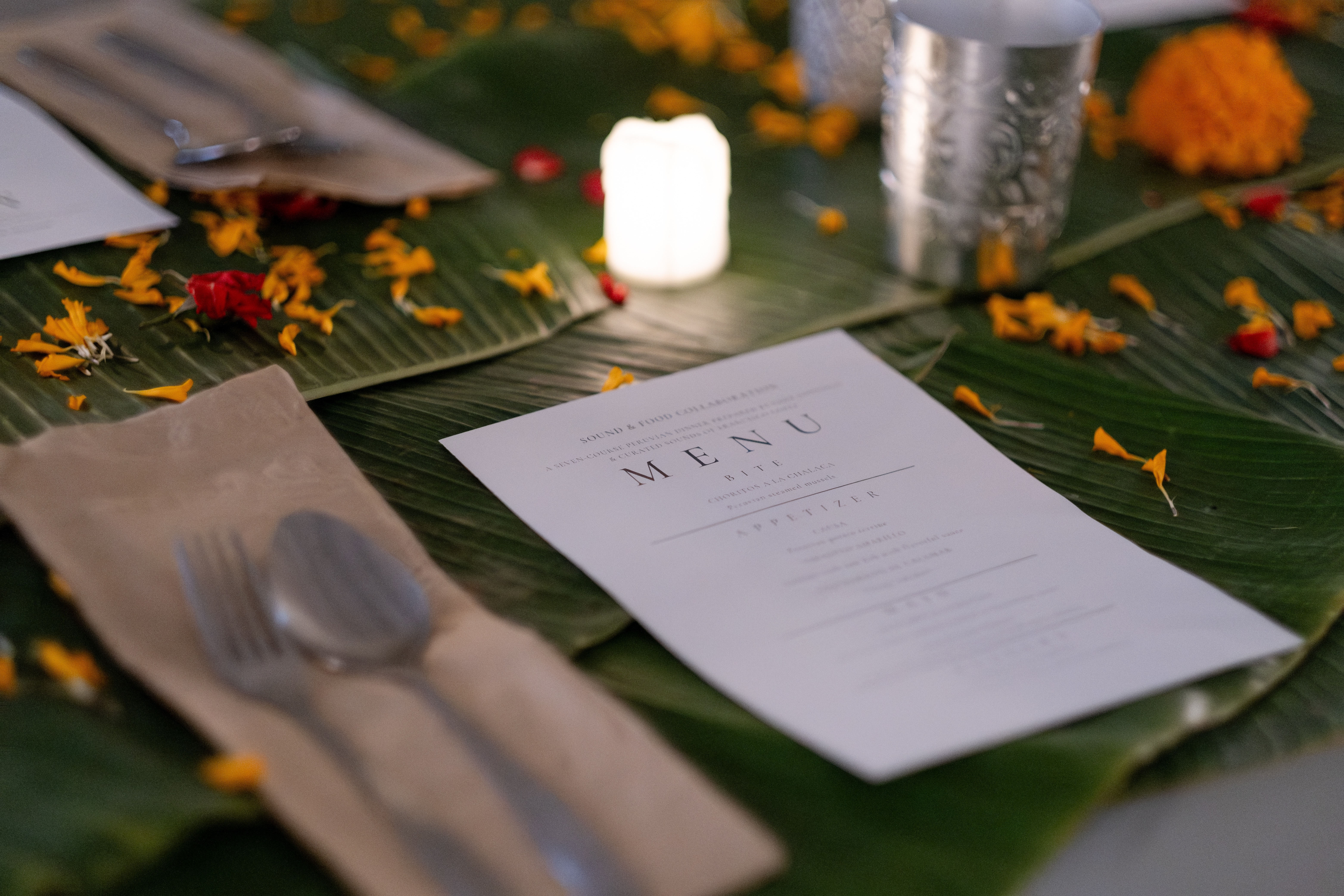 Fall 2022

Francisco López's residency at Bangkok 1899 in Fall 2022 was also supported by the Embassy of Spain in Bangkok.

As a follow up to four SOLD OUT experimental music performances, Francisco López discussed his new field recordings from five national parks in Thailand. This artist talk concluded his one month residency at Bangkok 1899 that was supported by Embassy of Spain in Bangkok. This FREE event was in partnership with Silpakorn University International College:


คล้าย คล้าย 'Same Same' - Elvire Bonduelle

10 February - 8 April, 2023
"A dictator of happiness" is how Elvire Bonduelle (1981, Paris) defines herself and her art, devoted to domestic comfort. Eluding limitations of media - spanning painting, installation, usable sculptures, video, and performance, - and categorizations of her practice, Elvire deliberately refers to Arts & Crafts and design, creating artworks which, in a very personal way, intend to be solutions for people, making their life better and happier.

This requires, of course, a responsive audience. Joyfully colorful, Elvire Bonduelle's creations do not fear the right to stand out against the grey background of contemporary art's cliches. The use of words is recurrent, often puns and statement ("LESS IS MORE OR LESS"; "SAIL AWAY"; "MIS FIT") and palindrome ("OK KO"; "GOD DOG"), which are transcribed directly onto her objects and paintings through a specific font she designed.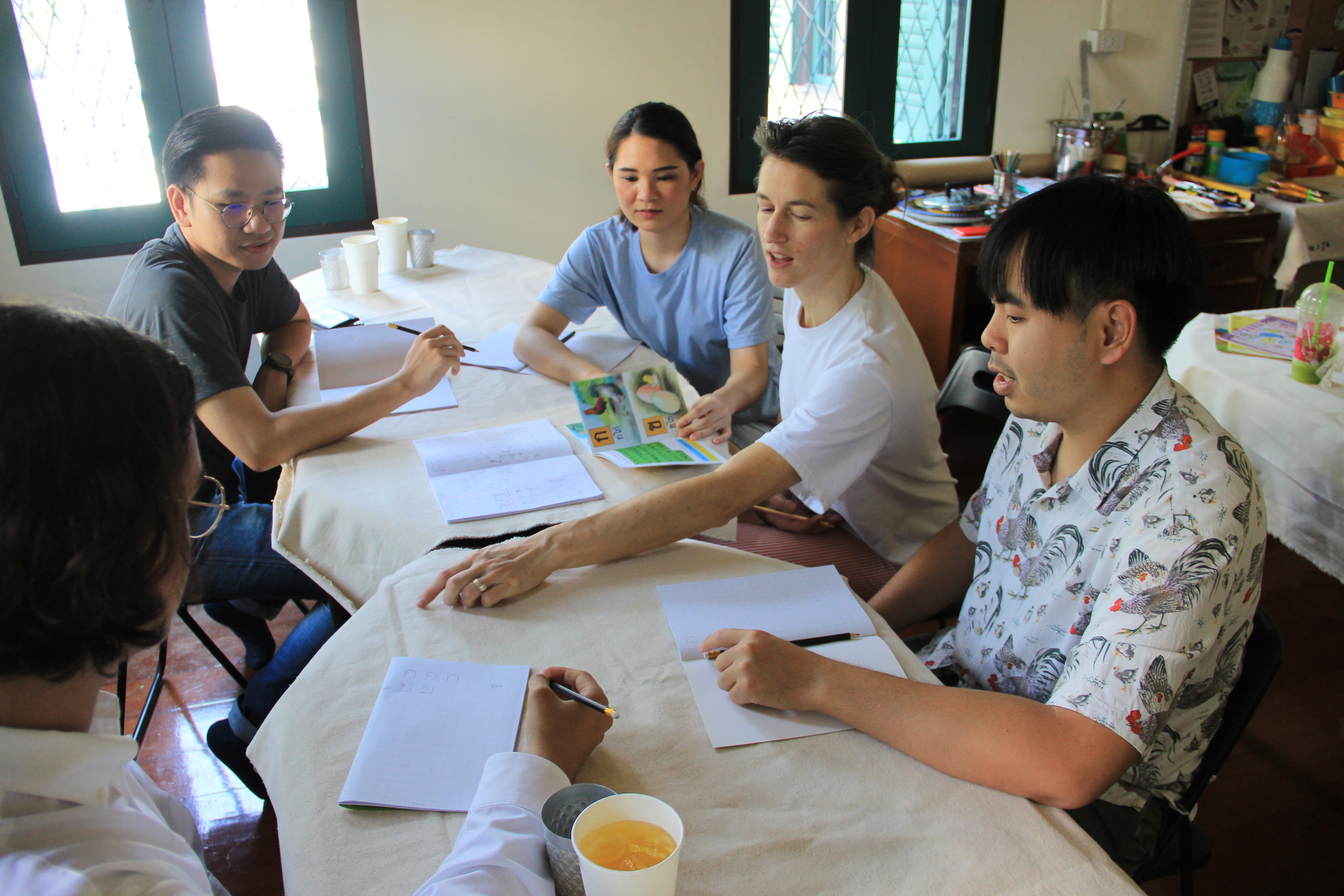 Elvire's paintings are often "rotating", and they can be viewed from up to down and vice versa, and on their sides too.

The artist often commissions gallerists and curators to operate a rotation of the paintings during an exhibition or an art fair, preferably unbeknownst to the spectators, in order to surprise them, to offer a different point of view on what they look at, and to defy them.

Pedagogically and playfully, Elvire activates a sort of eye training, forcing the viewer to look at the artwork not just once, but two, three, many times, until they discover the trick. With ostensible ease, the rotating paintings advocate slowness and contemplation to appreciate the work's reflection on painting, installation, and art presentation while advocating for a better world.


Elvire Bonduelle was born in 1981 in Paris. She studied at les Beaux-Arts de Paris in Richard Deacon's studio and graduated in 2005. Mainly based in Paris, she presented her work in galleries and institutions. Among her recent solo shows one can cite : Bienvenu Steinberg & Partner, NYC (2022) ; Alkinois Art Space (Athens, 2022) ; Three Star Books (Paris, 2021) ; VER Gallery (Bangkok, 2020) ; Galerie Van Gelder (Amsterdam, 2019) ; Galerie l'Inlassable (Paris, 2018) ; Osmos Gallery (New York City, 2017) ; Ronchini Gallery (Londres, 2017).

Elvire also published various books with texts and images, such as «Maison Voiture Chien Fleurs» (Bandini Books, 2019) alongside special editions of "El Pais" and "Le Monde" newspapers. Among the private and public collections which acquired her work: FRAC Corsica; CNAP – Centre national des arts plastiques, Paris; Getty Research Institute, Los Angeles; Clark Art Insitute, Williamstown, MA; Tuft University, Boston, MA; Bridwell Library, Dallas, Texas; KB Nationale Library, Den Haag Pays-Bas.