November 28, 2020
[Right 2 Clean Air | Getting to Zero Campaign] presents
Clean Air Day with Circular Design Lab at Bangkok 1899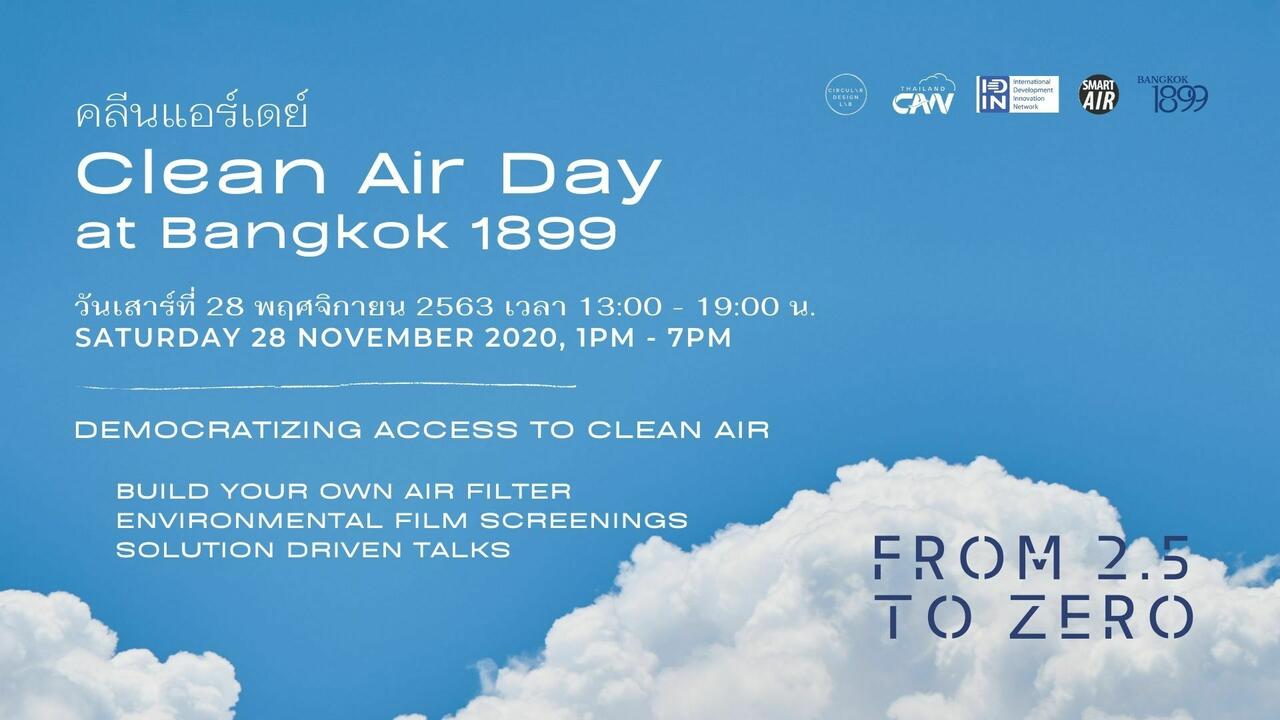 Bangkok 1899 is excited to announce
Clean Air Day at Bangkok 1899
, organised in collaboration with Circular Design Lab! Held on 28 November (Sat), from 1PM - 7PM, Clean Air Day at Bangkok 1899 aimed to
democratize
access to clean air by spreading awareness about air pollution in Bangkok, Thailand.
This was done through a day-long program of educational events such as the screening of environmental films organised by our parent non-profit, Creative Migration, and The 60 Second Film Festival. This included
POST NEW BILLS: The Story of Green Patriot Posters
, a film that Creative Migration produced in response to the
Green Patriots Posters
!
Furthermore, Solution Driven Talks and DIY Air Filter Workshops were conducted by
Circular Design Lab
,
Thailand Clean Air Network
and
Smart Air
. Circular Design Lab is a self-organized, citizen-driven project that aims to develop and deliver solutions to humanity's environmental and social challenges such as air pollution. Similarly, Smart Air is a social enterprise that promotes cost-effective, data-backed air filters as a solution to indoor particulate air pollution. As air particulate matter in Bangkok is
steadily escalating to dangerous levels
, the workshop empowered attendees with the awareness and knowledge to help stymie its mounting effects on our communities.
Throughout the day, we also held a signing for the petition for the 1st Citizen-Driven Clean Air Act. This is part of the White Paper released by the Thailand Clean Air Network, an interdisciplinary coalition of economist, environmental lawyers, educators and grassroots members. Drawing on data, the White Paper aims to de-mystify the science behind air pollution in Thailand as well as outline the actionable steps towards policy change, one of which is the Clean Air Act. We also opened Scott Kildall's sonic, sculpture series
Unnatural Language
for exhibition, which was based on the soundscapes from electric sensors around Bangkok. This included an Air Quality Sensor that tracked particulate matter (PM 2.5 and PM 10) and its aural effects on human breathing.
Activities
Solution Driven Talks & DIY Air Filter Workshop
by Circular Design Lab x Thailand Clean Air Network x Smart Air
1:20 - 2:30 & 4 - 5 PM
Environmental Films Screening
by Creative Migration & The 60 Second Film Festival
3 - 7 PM
Happy Hour at Na Cafe
5 - 7 PM
All Day Happenings:
Petition for the 1st citizen driven

Clean Air ActClean Air Photo Booth

Unnatural Language: sonic, sculpture serie (created during multimedia artist Scott Kildall's residency at Bangkok 1899)
︎

[ Right 2 Clean Air | Getting to Zero Campaign] และ Circular Design Lab ยินดีนำเสนอ คลีนแอร์เดย์ ที่ Bangkok 1899 พร้อมร่วมสนุกกับกิจกรรมต่างๆในงานดังนี้

กิจกรรม

เสวนาเพื่อหาทางออกแก้มลพิษทางอากาศและเวิร์คช็อปทำเครื่องฟอกอากาศแบบ DIY
by Circular Design Lab x Thailand Clean Air Network x Smart Air
1:20 - 2:30 & 4 - 5 PM

กิจกรรมฉายภาพยนตร์สั้นแนวสิ่งแวดล้อม
by Creative Migration & The 60 Second Film Festival
3 - 7 PM

Happy Hour at Na Cafe
5 - 7 PM


และกิจกรรมอื่นๆอีกมากมาย
การร่วมลงชื่อสนับสนุนสิทธิในการเข้าถึงอากาศสะอาด
คลีนแอร์โฟโต้บูธ

นิทรรศการชุด Unnatural Language: a sonic sculpture series

(สร้างสรรค์ผลงานโดย Scott Kildall ในช่วงระหว่างการเป็นศิลปินในพำนักที่ Bangkok 1899)