supported by U.S. Embassy Bangkok
Eco Workshop with Refugee Youth
To commemorate World Environment Day (5th June 2022) and World Refugee Day (20th June 2022), Bangkok 1899 held Eco Workshop with Refugee Youth on our premises, in collaboration with Na Projects , SATI Foundation and Precious Plastic Bangkok.

Eco Workshop with Refugee Youth was a hands-on, educational experience to learn about upcycled fashion through innovative methods. In the
Natural Dye Workshop by Na Projects, participants learnt to tie-dye cloth masks using natural indigo dye.
In the Plastic Recycling Workshop by Precious Plastic Bangkok (PPB), PPB demonstrated a typical plastic recycling supply chain using three machines - a shredder, an extruder and an injection machine. Participants also created upcycled products from melted plastic and jewelry from upcycled plastic beads.
Check out our Cimate Impact Report for this event here!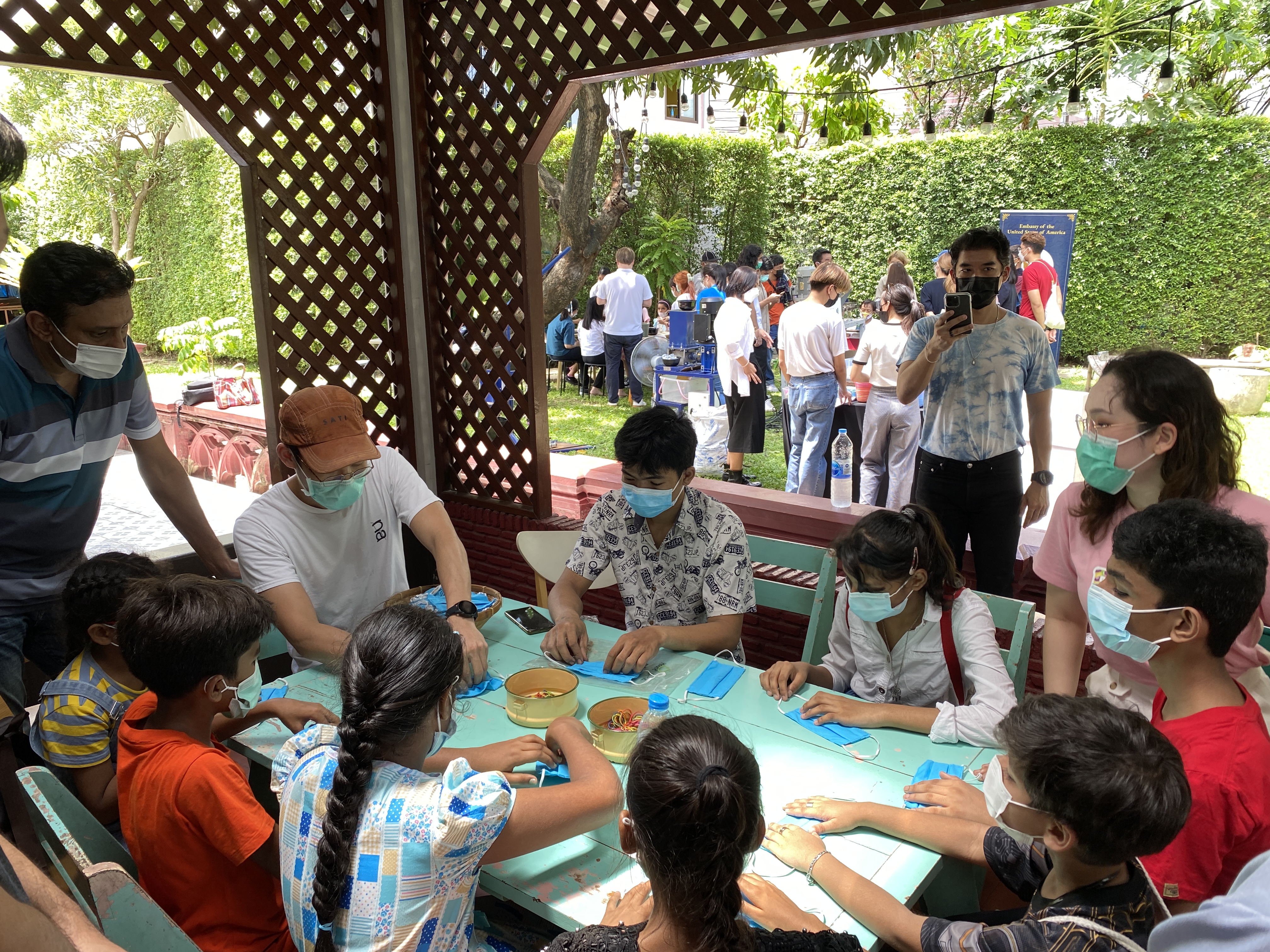 OUT LOUD: Celebrating Women's History Month

OUT LOUD drew a diverse community from different sectors throughout Bangkok gathered to network, connect, inspire, and grow as allies in celebration of Women's History Month.

Bangkok 1899 hosted a bilingual panel discussion ,"Advancing Inclusive Women's Rights",
by five inspiring women to share their perspectives toward building a more gender-balanced world.



The speakers were:

Kawita Vatanajyankur, Video and Performance Artist
Setha Tienpirangul, Public Prosecutor, Justice System Coordination Office, Nitivajra Institute, Office of the Attorney General
Kath Khangpiboon, Lecturer, Department of Social Work Faculty of Social Administration Thammasat University
Siriwan Khanunthong, Human Rights Officer, Office of the National Human Rights Commission of Thailand
Lydia Barraza, Cultural Attaché, U.S. Embassy Bangkok (moderator)
The event also included a public screening of the film "RBG", which explores Ruth Bader Ginsburg's exceptional life and career as the second woman to serve on the U.S. Supreme Court and a leading voice for gender equality, women's interests, and civil rights and liberties.

A selection of four video artworks by artist Kawita Vatanajyankur were on view for one night only in the gardens of Bangkok 1899. The permanent gallery of Bangkok 1899 presented the photo exhibition "Bare" by artist Solène Le Doze whose work explores sisterhood's strength when encountering personal difficulties.

Workshop Day for Young Women


To celebrate Women's History Month, we also invited young nursing students from the Northern region on US Embassy Bangkok scholarships at the Wat Arun Rajvararm Community Learning Centre for a day of workshops at Bangkok 1899.

Precious Plastic Bangkok provided a hands-on workshop exploring plastic waste and creating pots. SATI Foundation led a confidence-building workshop allowing the young women to practice communication skills. Creative Migration explored the power of positive and powerful words through a badge-making workshop.

Following the workshops, Na Cafe prepared an amazing lunch to celebrate the young women's hard work and dedication!